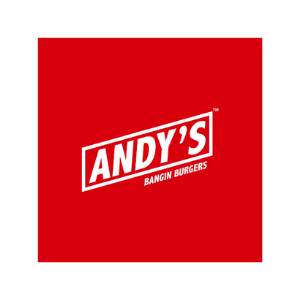 Andy's Burgers
Various UK locations
Investment Level £200,000
Management Service Fee: 4%
Franchisor Description
Andy's Burgers offers great food, great value and great customer service. They have made it their mission to serve only the freshest, tastiest food. Andy's Burgers are looking for new franchisees to join their network. Allowing more and more people to experience premium but affordable products. Allowing the brand to become recognised across the UK for outstanding quality and taste at an affordable price.
With available opportunities across the UK, Andy's Burgers are now recruiting new enthusiastic franchisees to join their foodie family. The team recognises that each franchisee has their own requirements and as such, they are dedicated to assisting each individual franchisee to set up the business of their dreams. The dedicated franchise team will work with you to realise your ambition and become a successful Andy's Burgers business owner.
Training Info
The dedicated franchise team at Andy's Burgers will support and guide you through the process of opening your own store. You will receive initial training and support, post-opening support, food and health & safety courses, Andy's Burgers IP, operational manuals, site design and project management and opening POS and marketing materials.